Welcome to Drs Chasin & Guarente Optometrists
We're proud to offer comprehensive eye care services and eyewear for the whole family. Our staff looks forward to helping you with all of your eye health needs. We will take the time to answer all of your questions and ensure you understand all of your options.
In everything we do, we make it our mission to provide our friends, neighbors, and the surrounding community with quality eye care and optometric expertise in a setting that is friendly and organized. We are always looking for ways to improve as a practice, too, so if you have any suggestions or comments, we'd love to hear from you!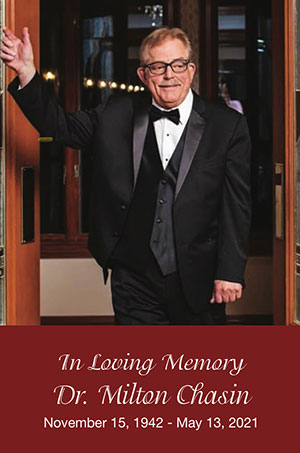 Dr. Milton Chasin of Kingston, N.Y., passed away at his home on Thursday, May 13, 2021, at the age of 78. He was born on Nov. 15, 1942 to Al and Ray Chasin in the Bronx, N.Y. He spent his childhood in New York City and later moved to Hollywood, Fla., where he graduated from high school. He received his undergraduate degree from the University of Florida in 1965. Shortly after receiving his Doctorate in Optometry from the Pennsylvania College of Optometry in 1969, he moved to Kingston, N.Y., (the very weekend of the Woodstock festival) to begin practicing optometry and raise a family. He would fondly call the Hudson Valley home for the next 51 years. Milt had many passions throughout his life. A lifelong Yankees fan, he loved attending games and teaching all his kids how to keep box score. He enjoyed spending the winters skiing and summers on the beach; be it Coney Island, Rhode Island or Greece. He was an avid reader and devoured anything by James Paterson. Other than sharing the latest news and bragging about the accomplishments of his children, his greatest passion was his optometry practice of 51 years alongside Dr. Augustus Guarante. Having fit multi-generations of families with glasses and contact lenses, Dr. Chasin was more than just a local optometrist, but a respected and beloved member of the local Hudson Valley community who cared deeply about his patients. A visit to his office was more than a doctor's appointment, but a social occasion. His family, friends, andthe local Kingston community will forever remember his kindness, compassion, generosity, quick wit, and story-telling, all fueled by a daily cup of Starbucks coffee. He is lovingly remembered by his children: Julie and her husband Stephen, Zacharias, Erika and her husband Sergio, Efthimia, and Alexander and his fiancé Elizabeth; his four grandchildren: Alexina, Lucca, Nico and Anthony; his sister, Carol, his niece, Stacy; his nephew, Marty; his former wives, Laura and Litsa; and of course his two dogs, Charlie and Chappy.
The absolute best care for my children's eyes! They are there for all of your obscure eye needs. They have the knowledge of popular urban physicians right in our small town. There is absolutely no need to drive to NYC when the best care in our backyard.
Grace N.